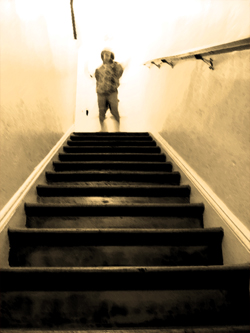 Only you could catch me.
Auntie, this is your memory,
But I'll gladly abduct it, or
Let's say, better yet, whoever
Lives longer absconds with it and
Is required to tend the recollection:
You, just fourteen at the bottom
Of steep, basement stairs
And me, just four at the top,
I seized the chance of flight,
Flung my little body at you,
And you had no choice but to catch me.
It was a good thing you were looking,
But I knew only faith, not doubt.
Only you could catch me.
Still a child trapped like me,
We recognized our comradery.
Mom shrieked and swore;
We escaped; we were free.
Only you could catch me
David Sapp is a writer, artist and professor living along the southern shore of Lake Erie in North America. He is a 2018 Ohio Arts Council Individual Excellence Award grant recipient for poetry. His poems have appeared widely in a number of venues across the United States, in Canada and the United Kingdom. His publications also include articles in the Journal of Creative Behavior; chapbooks Close to Home and Two Buddha; and his novel, Flying Over Erie.