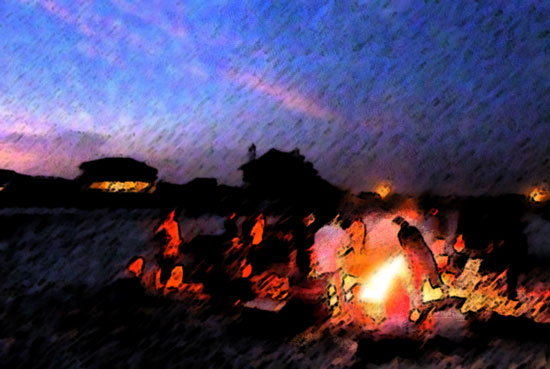 Poems sprinkle out from the spice canister
High yellow vowels, sand scarred s's,
Antigua blue cocktail beaches, Montserrat
Black rivers of ash, small consonants
And heavy wet k's with clicks and slides.
The sounds gather round the bonfires
And the dancers, the drummers, the singers,
The storytellers and women of poetry.
Trade winds lift the soft vowels
And thick consonants high into the air.
Words form into imagery and breath,
Into word tones, natural rhythms, themes
Of courage and love, joy and hope,
Greatness and happiness, and somewhere
A rope breaks and the poem sets us free.
Michael H. Brownstein has been widely published throughout the small and literary presses. His work has appeared in The Café Review, American Letters and Commentary, Skidrow Penthouse, Xavier Review, Hotel Amerika, Free Lunch, Meridian Anthology of Contemporary Poetry, The Pacific Review, Poetrysuperhighway.com and others. In addition, he has nine poetry chapbooks including The Shooting Gallery (Samidat Press, 1987), Poems from the Body Bag (Ommation Press, 1988), A Period of Trees (Snark Press, 2004), What Stone Is (Fractal Edge Press, 2005), I Was a Teacher Once (Ten Page Press, 2011), Firestorm: A Rendering of Torah (Camel Saloon Press, 2012), The Possibility of Sky and Hell: From My Suicide Book (White Knuckle Press, 2013) and The Katy Trail, Mid-Missouri, 100 Degrees Outside and Other Poems (Kind of Hurricane Press, 2013). He is the editor of First Poems from Viet Nam (2011).