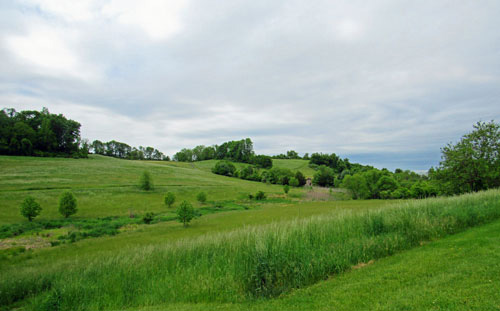 Let everything remain
as it is, the unexpected quiet
like the August heat out
in the meadow, the sun rubbing
the old maples. Look at the black eyed
Susans studded by the dirt road drop
open as they lose their tight
grip. Do not hurry. Nothing
about this day asks
to be changed, things being just
as they are. Come,
let us breathe in unison
with the cattle in their long
stare across the creek
on this fine Sunday morning slipping away,
this day we cannot hold on to,
taking whatever comes like the drifting
hawk that rises up in the sky. Kneel down
in the tall grass in simple perfection
with the humming
of the almond-eyed grasshoppers
before the farmer's last baling.
Blessings waft
through the summer air. Little by little,
leave the other voices behind. Stop
right here, right now
to listen to the wood thrush repeat
its four fluty notes, calling up
I'm here, I'm here.
Anthony Botti's poetry has appeared recently in Comstock Review, The MacGuffin, Cider Press Review, Caveat Lector, Clark Street Review, Old Red Kimono, Tiger's Eye, The Rockford Review, and Peregrine. He lives in Boston with his partner and their pug, Ernie, where he works in health care management at Harvard University.