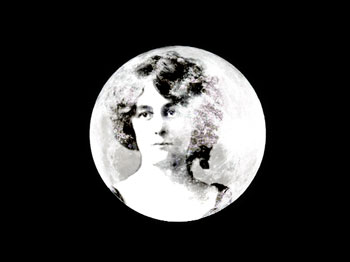 "…I strove
To love you in the old high way of love…."
—W.B. Yeats, "Adam's Curse"
In all the photographs her hair is dark,
Simply restrained, perhaps a trifle wild;
Her eyes — dark too — are eyes that have beguiled
A poet's heart, and known it. Their cold spark
Blazes down decades, the emblazoned arc
Of meteors through Celtic nights. She smiled
But rarely for the camera, a spoiled child,
Ungracious muse behind his greatest work.
And he, the grave, bespectacled young man,
Inscribed his longing on midnight's dark page;
The penny whistle and the pipes of Pan
Sang in his verse. He managed to engage
The heartache of the hollow-hearted moon,
Mad Ireland, beneficiary of his courage.
Born in Michigan in 1957, Robert Lavett Smith grew up in northern New Jersey, in a suburb of New York. Since 1987, he has lived in San Francisco, where for the past thirteen years he has worked as a Special Education Paraprofessional for the San Francisco Unified School District. He holds an M.A. in creative writing from the University of New Hampshire, where he studied with Charles Simic and Mekeel McBride. In 1982, he studied with Galway Kinnell, as a member of the Master Class at the 92nd Street Y in New York City. He is the author of four small-press chapbooks, and most recently, of a full-length collection, Everything Moves With A Disfigured Grace (Alsop Review Press, 2006). All of these are free verse works. A collection of his sonnets, Smoke In Cold Weather, is forthcoming by the Full Court Press.