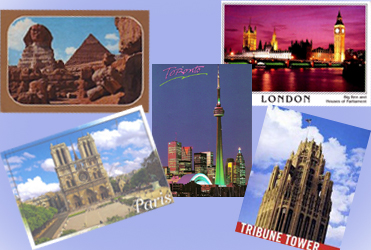 All the Great Structures Go
They had halls; they had souls. They had doors; they had mores. They had windows, the better with which to see. Humans had constructed them, and they had, in their own way, become human.

Then they had become more than human.

They had decided it was time to go, to disassociate themselves from the human rabble. For safety's sake. For self-preservation.

"They build us up only to tear us down," said the Cathedral of Notre Dame in Rouen, and far from France, under a blistering sun, the Great Pyramid of Cheops at Giza murmured agreement.

"As a whole, their race has no true appreciation of beauty," declared the Centrepoint Building in London while strong winds blew dust from its faceted façade.

"They seem consumed by the urge to destroy," observed Toronto's CN Tower, patching into the conversation in a manner not requiring the telecommunications technology installed within it. "If not us, one another."

"Tell me about it," said a twenty-story luxury hotel in Vegas. "They're already in the process of tearing me down. Growing problems with my electrical system, they said. We waited too long! I'm a goner!"

The House of Parliament was tempted to tell the hotel to quit whining, that unfortunately they couldn't go back and change the past, but even the HoP — routinely a hardhearted sort — understood the four-star's frustration.

The rest of the ornate government buildings, skyscrapers, pyramids, and religious edifices spanning the globe maintained a moment of silence out of respect for their soon-to-be-fallen brother. Knowing they were on the verge of making a revolutionary journey, the structures at this time gave further pause in remembrance of the World Trade Center, the Gillender Building, the Belvedere, Cabrini Green, the Hotel Sofitel Tokyo, the Lotto Tower, the Stevens Building, the Christopher Inn, British Columbia's Permanent Loan Company Building, the Askariya Shrine, and countless more architectural wonders that had been erected, then demolished or damaged, by the hand of man.

"It is time," the Notre Dame Cathedral said at last, assuming its customary leadership role. "Let not one more brick be shattered, not one more section of stone or marble be cracked, not one more pane of glass be broken."

"To the dark side," said Chicago's Tribune Tower.

"To the dark side," Cheops echoed.