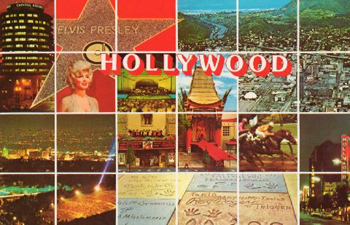 Faulkner & Hollywood
By D.E. Fredd
In 1935 Mascot Studios become part of Republic Pictures. Billy Flynn was Mascot's hot property when it came to churning out those "cliffhanger" serials that were box office gold. He figured the buyout would put him in the driver's seat, but Republic's head man, Arnie Shrenk, low-balled Billy in a take it or leave it deal.

Just as things started to look grim, Twentieth Century Fox rode up like the Seventh Cavalry and offered Billy and his production crew a fat contract of what was decidedly not chopped chicken liver. Fox wanted a piece of the serial business if only to combat Republic and Universal and, next to Will Witney and Jon English, Billy was the best around to leverage such a move.

Where Billy went I wasn't far behind. My main asset was that he was sweet on my big sister Rose so he always found errands for her twenty-year-old kid brother to run. As it turned out Fox really didn't have any projects for Billy. All they wanted was to keep him away from Republic, like the New York Giants overpaying a player to keep him away from the Brooklyn Dodgers. Solly Weinstein was running Fox's production at the time. He thought the studio was too classy for Saturday matinee serials, so he assigned Billy to some "B" pictures with the idea of moving him to features if he earned his stripes.

The real problem then became what to do with me. I wasn't working for Billy as such. In the old days I used to get lunches, pick up the trade papers and drive the gang around when they were too pie-eyed to piss standing up. But Fox had their own cafeteria and stores. It was a small city. Wherever Weinstein went a bevy of underlings followed him, scratching notes as he barked his way around the lot like a czar checking on his serfs. It finally boiled down to no job at all or be Weinstein's full time errand boy. Did I want the electric chair or an old-fashioned noose?

At the outset I washed and polished Solly's car several times a day, just so, when he looked out the window, he'd see me doing something. If it rained, I sat in the driver's seat and read, trying to educate myself on how to write for the picture business. There were scripts Billy had cast off, or others that my old gang had written and wanted some opinions about. Then the waiting would abruptly end, and I'd be given a dozen jobs at once, each in a different part of town.

When you worked for Solly you got used to two things: whatever you did was always wrong; the second was being screamed at and humiliated for screwing up. The first few weeks almost drove me to tears — or worse, to slug the fat bastard — but Gladys Pinzler, Solly's receptionist/secretary, got me through it.

She was thirty-five, a little weather-beaten — especially around the mouth and eyes — but a great lower body, dancer's legs, curved and trim. She'd had a few bit parts some years ago, but saw the theatrical handwriting on the wall and went to business school at night. She made good money, but, as she told me a little too confidentially, "was always bending over backwards as well as inventing other positions to keep Solly happy."

One morning I came back from Braverman's with a dozen poppy seed bagels. Solly went up one side of me and down the other, because I didn't toss his name around, and thereby lost out on the baker's dozen and celebrity discount. I was called a Mick Irish, goy, asshole, and a string of other things in Yiddish until Gladys interceded to say that she had just called Braverman's, and if I would run back over, they'd right the wrong. On my way out she slipped me a couple bucks, telling me to pick up some lox, whitefish and cream cheese and pretend it was part of the store's apology.

So, with Gladys's help, I made it through each day working for Solly. She had a gallows sense of humor, "If you don't laugh, kid, you'll end up taking the gas pipe." We worked out a set of hand signals concerning Solly's temperament, which was directly linked to his sexual activity. He was somewhat approachable after his hormonal needs had been serviced. But, if he went too long without release, heads were bound to roll if you were in his path.

Gladys, with the probable exception of Solly's wife, was his sexual court of last resort. Center stage was a stable of starlets scattered across town. It was one of my jobs to chauffer him to various addresses. Sometimes the automobile itself was his personal pied-à-terre. I always knew whether the trip was business or pleasure if he whacked the rear view mirror askew before getting into the back, pulling the black privacy shade down between us. Discretion is always the better part of steady employment.