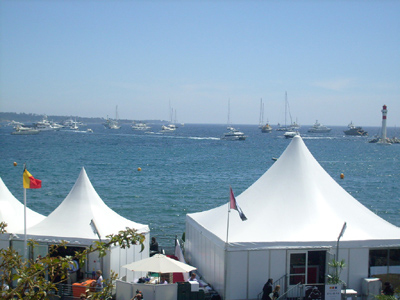 Cannes 2008 Red Carpet
By Rada Djurica
Speaking as someone who enjoys covering the glorious sights, sounds and smells of cinema's biggest events in Europe, Cannes Film Festival is the best. The great figures in the global film industry were all there on the French Riviera for the 61st Cannes Film Festival. At the Cannes Film Festival, though, nobody tells you about the free coffee at the Palais de Festival, or where to go if you are a writer or producer. You must find out everything on your own. With that in mind, here are a few of my observations from my experiences as a member of the press.
Once you arrive, it is essential to know how to communicate with other participants, because this is how you find out about parties. Parties allow you to make contacts. As I discovered, the best and most available parties take place in the International Village. Also, queuing for an hour is a must, because otherwise — even with a press pass or other pass card — you won't get to see films.

Of course, actual contact with celebrities is out of the question, and queuing before the celebrity red carpet is a must, because of the fantastic number of accredited journalists. If you want to take a good picture, try finding a good position on a nice, comfortable tree outside of the palace, because that is the only way. Steven Spielberg, Tilda Swinton, Jude Law, Harrison Ford, they were all there… Some of us were even lucky enough to meet Madonna, who came to Cannes to perform a concert and make another million.
"All you need [at such a] festival is light clothing, a little black dress and high heels in your bag, just in case you get invited to one of the numerous closed character glam parties," said Hazel Lyon, a Scottish screenwriter.
In the meantime, Mark Ronson and Jade Jagger were out on the town to celebrate, Jade wearing her brand-new, very expensive diamond ring, a gift from her father. They had competition from Brad Pitt and Angelina Jolie, who were hosting their own party. But we wouldn't get to speak to Angelina Jolie, because her press situation was a living nightmare.
Jude Law and director pal Jeremy Giley also held a photo shoot for their new movie, The Day After Peace, at the Majestic Beach, during the 2008 Cannes Film Festival on Monday. Last year, Jude and Jeremy traveled to war-town Afghanistan to help promote the United Nations' annual Peace One Day (POD), a day of worldwide ceasefire and nonviolence.

This year, a French film won the top award, and films from Italy and Latin America were also honored with top prizes. Laurent Cantet's Entre Les Murs (The Class) won the Palme d'Or, presented by a jury president Sean Penn. The best director honor went to Nuri Bilge Ceylan for Three Monkeys, while Jean Pierre Dardenne & Luc Dardenne received the award for Best Screenplay for Le Silence de Lorna. Two competition films from Italy were among the big winners: Gomorra, directed by Matteo Garrone won the Grand Prix runner-up prize, and the festival's Jury Prize went to Il Divo,directed by Paolo Sorrentino. Sergey Dvortsevoy's Tulpan won the Prize of Un Certain Regard at the Cannes Film Festival, while Kurosawa Kiyoshi's Tokyo Sonata won The Jury Prize. Other prize winners include Andreas Dresen's Wolke 9 (Heat Throb Jury Prize), James Toback's Tyson (The Knockout of Un Certain Regard) and Jean-Stephane Sauvaire's Johnny Mad Dog (The Prize of Hope).
The Un Certain Regard section presented 20 films that were judged by a jury lead by filmmaker Fatih Akin, who said, "Our mission was to attribute three prizes for Un Certain Regard, but considering the quality and richness of the offerings, and as a testimony of our great enthusiasm, the jury requested of the festival permission to recognize two more films with honors."