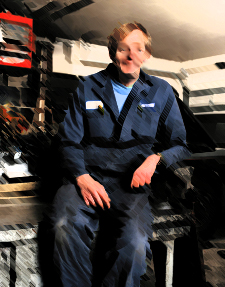 Better with Age
I parked alongside the body shop, like I do every morning, and walked by the car that I'm going to take with me when I retire. It's a restoration we did of a 1972 Chevrolet Chevelle SS 454 Coupe with a cowl induction hood and a big block V8, though the engine's the only thing we changed. That and the paint. We gave it this metallic forest green high-gloss job with black double racing stripes from front to back over the top. Everything else is stock: factory original parts. Cars like that only get better with age. When I retire, I'll gift that car to myself and roar it home to my garage, like I did when I was in my twenties, the engine loud enough to shake the oil cans on the plywood shelves. Then I'll take it out whenever I want; I'll finish my days the same way I started them. I walked past that car and let my fingers brush the side-view mirror. Not long now. Maybe a couple years before she's mine, maybe less.
"Who's next?" I asked into the intercom.
"Nicole Sullivan," my secretary, Nancy, replied.
I said, "Send her in," and fished her resume from the pile on my desk. The name didn't sound familiar, but when Nicole walked in with her hair up in a bob, her skirt hugging her thighs, and her mouth set in a turned-down triangle, she immediately looked like someone I'd met before. "Good morning, Ms. Sullivan."

"Good morning, Mr. Barker."

"Harry's fine."

She nodded. "Harry, then."

As she bent to sit in the chair across the desk, I got a good glimpse down her shirt. I couldn't tell if it was the work of a surgeon or the good Lord Himself; nor did I care.

"So let's cut right to it," I said. "I'm looking for a new secretary, because Nancy out there is retiring."

Nicole nodded.

"She's been a good woman over the years, and you'd have some big shoes to fill."

"I heard that, Harry," Nancy said over the intercom, which I'd forgotten to turn off. "And I'll have you know I only wear a size six, women's."

"Sorry, Nancy." I flipped the switch off.

Nicole laughed a little, which was nice, as she had perfectly straight teeth.

"Anyway, Nicole, what makes you the person to fill those size sixes?"

She straightened in her chair, crossed her legs, and folded her hands over her knee.
"Well, though I haven't worked with auto parts before, I've worked in secretarial positions for the past seven years, so I have plenty of experience. I know all the ins and outs of the job. I'll always get here on time, and if you'd like references, I can give you plenty."

I shook my head. "That won't be necessary. You seem trustworthy."

"Thank you, Harry."

The way she said my name so effortlessly made me want to offer her the job right away, without hesitation. Why this girl seemed so familiar was beyond me, but the feeling was there just the same, and so I wanted to act in her favor. And hell, I own this place: been selling car parts for a while now after Pop passed. I make all the final calls.

"You've got it. The job, I mean. It's yours. You start next week."

"Really?" she said, leaning in just enough. "You're not going to ask me anything else, about my past work experience or anything?"

I shook my head. "I know a good hire when I see one."

She smiled a curling, devilish smile that told me I'd definitely made the right decision. "Thanks, Harry," she said. "You won't regret it."

We shook hands, and I watched her leave.

After she left, I went online and looked up her name, hoping to figure out why she seemed so damn familiar. Google gave me about twelve zillion hits, and after the first ten, I saw some archive photo galleries with "Nicole Sullivan" bolded in the description. They were probably some family snapshots on a personal site from a vacation or something — my son does the same thing. I clicked the link. But company security blocked the access with a big red warning page, which was odd. I'd never seen a warning page before, so I left my office and headed for the garage, which was where Tony, our computer guy, had his desktop set up.
Nancy glanced up at me as I passed her desk, the one Nicole would sit behind next Monday. "How was she?" Nancy asked, and I stopped.