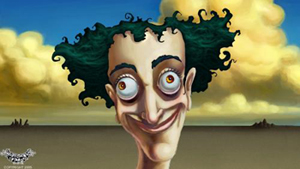 A Selection of Animated Shorts
By Alyce Wilson
Every year the Philadelphia Film Festival shows a number of shorts, both animated and live action. This is a look at some animated shorts from the 2006 festival.
A collection of animated shorts called My Life in 'Toons illustrated different ways of looking at life. Several of them were done by students in the CalArts School of Film and Video, one of the premiere schools for animation.

First was a short called "The Fruit Tree of Galilee" by CalArts student Eric Favela. (You can view a different short by him here.) This was traditional hand-drawn animation of a guy sleeping under a fruit tree. He gets hit on the head with an apple, which he eats and then turns into a frolicking monster. The short was witty and playful, and the audience loved it.
Then was another CalArts short, a simple computer animated piece called "Noobies" by Benjamin Vu. The characters and background are very simple geometric shapes, and it tells the story of a man who climbs a mountain to read quietly, only to be followed by two annoying young people who can't stop praising the view. This also got a lot of laughs, especially when the youngsters fall victim to a neophyte mountain climbing fate.
Next was "My Little Obsessive Compulsive Friend" by Steven Adam Macleod, also a CalArts student. This was also hand-drawn, and it was just at the line drawing stage. The character style was very reminiscent of classic Disney. The story was simple: a boy playing with his pet mouse, whose obsessive compulsion behavior leads him to make neat rows of grains of rice. This was simple and well done, which added to its charm. Another funny delight.
Another CalArts project followed, "Asleep at the Wheel" by Sean Jimenez, whose short was a finalist in the 2005 Adobe Design Achievement Awards. (More info on the short can be found at Adobe.com.) Everything was drawn by hand and then scanned into Adobe Illustrator and completed using Adobe After Effects and Adobe Premiere. This is a dreamlike piece with minimal movement, as a sleeping man drifts out of his bed and through tableaux in his town. The artwork is distinctive, with elongated figures and faces reminiscent of satirical cartoons.
This was followed by the CalArts short "Cat Food" by Nate Wragg. This was a hand-drawn short about trick-or-treaters, with two boys trying to frighten a little girl about the bloody fate that awaits her if she knocks on an elderly lady's door. The animation is a blend between more realistic and very expressionistic drawing styles, some of which are reminiscent of 1970s psychedelic artwork, perhaps influenced by Hunter S. Thompson's long time illustrator Ralph Steadman. Unfortunately, the sound was poor, and that's a problem because it's important to understanding this one. Still, the idea was interesting, and it was fairly well executed, if clearly not a professional piece.
Then was "Latent Sorrow" by CalArts student Shon Kim. This film, which the filmmaker calls a moving painting, has been exhibited at lots of film festivals, including the Experimental Film and Video Festival 2005, where it won the Fuji Film Eterna Award. This started out with very abstract shapes, much like ink blots moving to music, and eventually progressed into glimpses of human faces amongst the abstract. The effect was like staring at an abstract painting until you think you see recognizable shapes.
Next was "Gustavo: A Day in the Life of a Very Hairy Man" by Australian animator Jonathan Nix, who did the sweetly romantic short "Hello" which played at last year's festival. "Gustavo" is very minimalistic. A hairy man, Gustavo, stands on a white plain, intermittently scratching himself, as hair grows out of every exposed piece of skin. It took me a long time to figure out what was happening, and the eventual punchline is a long time coming.
This was followed by the colorful "At the Quinte Hotel" by Bruce Alcock, a Canadian commercial director who has worked in live action, CGI, drawings, photo-animation, film scratching and clay. This short illustrates an original poem about an evening in a bar, read by the poet, Al Purdy, in a marvelously expressive gravely voice. This was really fun: a blend of hand drawn animation and claymation. I loved this one. The poem itself reminded me of Charles Bukowski, and the animation fit the poem extremely well.
Much to its credit, Swedish animator Malin Erixson's "Death by Heart" was seven minutes long but so well-constructed that it seems much shorter. This is a simple tale by a narrator about a friend of his, a hypochondriac named Conrad, whose friends have nicknamed him Hypoconrad. The film is hand drawn, with simple black and white characters on a background done with a red and gold wash. The narrator, a nebbish who can't get up the nerve to tell his friend something important. The short is well-crafted, funny and even surprisingly moving.
Next was a hand-drawn masterpiece, "Life in Transition" by John R. Dilworth, president and founder of Stretch Films, a design and production studio for animation based in New York City. This features a strange-looking, almost clownish green-haired man on a very Dali-esque brightly lit, barren background. The character dances to music and transforms into various Dali-esque shapes, eventually becoming something entirely different. The art is gorgeous, with vivid colors, and the film reminds me of a Salvador Dali painting brought to life.
Then was "cNote" by two-time Oscar nominee Chris Hinton, a Canadian animator who teaches at the film program at Concordia University. This is a real departure from his usual narrative films, an experimental piece blending abstract forms with experimental music. Sometimes discordant, sometimes slow and halting and other times a burst of sound, he masterfully matches sound with movement. Still, the piece felt long and a bit indulgent.
Injecting a lighter note was "Dog Worries" by Chris Armstrong, director of animation 3D at the Academy of Art University in San Francisco. He has worked with Industrial Light and Magic on movies like The Day After Tomorrow, Men in Black II, Star Wars: Episode I, and was animation supervisor on Galaxy Quest. The film was his first independent short, and it tells the story of a man's conflict with a neighbor's dog. The drawings are very childlike, and it was computer animated, which allows for creative movement between scenes: in and out of windows, over fences, et cetera. The only drawback was a small one: it was probably meant for a smaller screen and became a bit pixellated when blown up to a full screen. The writing is brilliant: funny and clearly based on real life experiences. Everyone who has ever lived next to a badly behaved dog — or even owned one — could enjoy this film.
This was followed by one of the best traditional animators in the field today, Bill Plympton. This was "Guide Dog" and could be considered a sequel to his Oscar-nominated short, "Guard Dog". In it, a dog bounces into an agency to take a job as a guide dog, but his efforts to keep his clients safe produce humorously dire results. Like many of his shorts, the story is conveyed with no dialogue, but with an extremely expressive dog and through creative visuals. No one can top Plympton's trademark style of absurdist humor.
"Remote Paradise" was next, a short by Quebecois animator Frederick Tremblay. This hand-drawn tale tells the story of two children who go on an adventure after their TV goes on the fritz. The artwork is simplistic and childlike, and the storytelling is charming, much like a children's book in motion. There's also a serious message about the way today's youth are chained to pop culture instead of using their imaginations.
A longer piece, "Morir De Amor" by Gil Alkabetz, was next. The official site summarizes it so: "While their owner is having his siesta, two old caged parrots rake up memories from the past. This leads to unexpected consequences for the three of them." The hand-drawn short contrasts a black and white apartment with the brilliant watercolor of memory, with nostalgic character designs looking like 1940s illustrations, particularly the Curious George books by H.A. Rey. The short feels longer than it has to be, with long moments of the birds being bored in the apartment before the memories commence. The parrots also spend a lot of time singing along to the title song, which adds to the total length.
Next was "The Old Crocodile" by Koji Yamamura. A hand-drawn short, it consists of solid black characters on a simple tan background, looking much like an ancient ink drawing. The story, which has lots of dry humor in it, follows an old crocodile who is exiled by his family and swims away, where he meets and befriends a very trusting octopus. While it feels very much like a fable or like a Rudyard Kipling "Just So" story, the ending doesn't quite follow the pattern. While there is a sort of wry twist, there's no moral to the story.
This was followed by "The Possum" by CalArts student Chris Choy. The film is hand drawn, possibly animated on the computer, and it follows a persistent possum's efforts to steal an apple from a greedy orchard owner. The artwork looks like watercolor and marker, and there is plenty of humor in the short, which could be improved by condensing a musical interlude that interrupts the action.
Last in the program was "To a Man with a Big Nose" by Cecilia Aranovich. This hand-drawn short is an adaptation of a poem by Spanish author Quevado, which celebrates the miraculous qualities of a man's overly large nose. This whimsical piece was received well by the audience.
The overarching theme of another collection was supposed to be influence by the graphic novel movement. I'm not certain, though, that this assessment came from the animators themselves. It seemed, instead, like a grouping of primarily narrative pieces.
First on the program was "Someday Never" by Stephen Hawkins, a very simple story about a sailor who tries to rescue a friend, stuck in an enchanted bar. This was hand drawn with very sketch-like chalk drawings on primary colored backgrounds. The music that accompanied the piece added to the eerie atmosphere.
Next was an animation that combines various techniques, "Fish Heads Fugue and Other Tales for Twilight" by Lauren Indovina and Lindsey Mayer-Beug, both graduates of the Rhode Island School of Design. The film combines hand puppets, cutouts, cell animation, computer cutouts and computer puppets into a 3D world. This one isn't strictly narrative, but rather a play within a play, where an elderly character sets up a magical puppet theater in which scene crank back and forth on gears while a young girl runs frantically through the sets, discovering new scenes. While the connection to graphic novels isn't obvious, it's an interesting experimental piece.
An interesting back story to this piece: Lauren and Lindsey are the twin daughters of filmmaker Carolyn Beug, who won an award for the Van Halen video "Right Now" and who died on American Airlines Flight 11 on September 11, 2001. Their father, John Beug, is SVP in charge of filmed production for Warner Brothers' record division.
Then came "Tick-Tack" by Bulgarian animator Boris Despodov. This short was pencil and pastel on paper, animated by computer. The very stylized drawings depict anthropomorphic birds, who wear human clothes and act much like suburban businessmen and housewives. However, the pregnant wife of one hapless bird is hiding a secret. This short was very distinctive, with an effective punchline. However, it dragged in parts, as the pregnant wife spends long minutes just staring out the window.
"Der Ostwind" by D. Kohl Glass was brilliant. It tells the story of a German World War I fighting ace who finally meets an opponent who can challenge him. The film incorporates live actors and initially looks so much like stock footage from World War I that you wonder when the animation will begin. Finally, you realize that everything is animanted but the people and perhaps some props! Not only is the animation exceptional, but the story is gripping, as well. Very impressive. The short's official site offers a finished trailer, and you can also view a very old concept page for the film at GeoCities.
Next up was "Surly Squirrel" by Canadian animator Peter Lepeniotis, who has been an animator on several big budget films, including Toy Story 2 and Fantasia/2000. He has worked as animator supervisor at various studios in Canada. The 3D computer animated film tells the story of a squirrel and a rat, intent on stealing pizza from a trash can, under the noses of a raccoon and a flock of pigeons. At the same time, bandits rob the bank across the street. The parallels are hilarious, the characterizations fun, definitely inspired by classic Sunday morning cartoons. This was a fun romp and an audience favorite.
Following this was a very experimental piece, "Jona/Tomberry" by Rosto A.D., based on the graphic novel, Mind the Gap. This is 3D computer animated and eerily dreamlike. As the synopsis on the official site summarizes: "Borges meets Murnau in a spinning nightmare, and the baby sings, 'No, not be scared, old bird, to awake and see I am dreaming you'." While the short is filmed in English, there are French subtitles. The words are often hard to make out above the music, so I was reduced to falling back on my French, which I haven't used since college. While it's a rich, textured environment, it wasn't my favorite.

This was followed by a somewhat lighter piece, "The Legend of the Scarecrow" by Spanish animator Marcos Besas, which was a much simpler story, a fable or origin myth. Besas is a 1991 graduate of the Tisch School of Arts and has received over 30 awards in various international festivals. The short was beautifully done, with very painterly hand-drawn characters and backgrounds. It tells the story of a scarecrow who gets bored and decides to befriend the crows he's supposed to be scaring.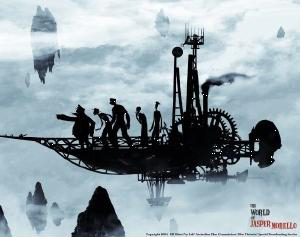 The last short we got to see was "The Mysterious Geographical Explorations of Jasper Morello" by Australian animator Anthony Lucas. This one was richly animated with a very distinct animation style, done entirely in silhouette. Set in a world known as Gothia, it's very much an H.G. Wells sort of futuristic world, with people wearing Victorian clothes and exploring their world in steam-powered airships. Buildings and ships are spindly and intricate, as are many of the characters.
It reminded me of 19th century shadow plays, which were performed with wooden puppets behind a screen, with light creating the shadows.
The story is about a narrator, Jasper, who is beginning to doubt his skills because of a tragic accident. He and his crew stumble across a possible cure for the plague that has been running rampant in Gothia. Of course, everything comes at a price. The great story and the superb animation combined for a breathtaking short.