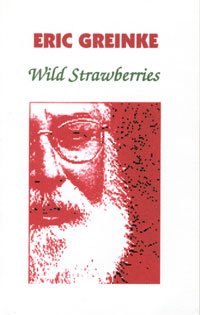 Wild Strawberries
Eric Greinke
Review by Alyce Wilson
When it comes to wordsmithing, Eric Greinke is an adventurer. While many poets with his CV (active in the American small press since the late 1960s) have settled into a comfortable style, he tries on form and subjects as joyfully as an outdoorsman discovering new territory.
In his collection, Wild Strawberries, the poems range from imagistic free verse, as in "Whitefish Point Light" ("The pebble beach / Is bleached to white, / Littered with ribcages of fish / Carcasses of big brown beetles") to languorous prose poems, as in "Kayak Lesson" ("Balance is everything in a kayak. In the wind, you must paddle back on one side, just to go straight.") to the surrealistic couplets of "Transmigration" ("Redundant black bear on the back deck / Disoriented curiosity of the wild // Dark wounds on drunken willows / Celebrate knots of green light").
Some of his most successful efforts combine different methods, such as "Crop Damage," which starts as personal narrative and becomes transforms into an emotional landscape. The speaker recalls "running with outlaws" in Nova Scotia, "lips smacking / On thoughts of fresh tomatoes" but recalls the aftermath of a hailstone storm: "Grass beaten down / Dance postponed / While desperate fields wept / Red with wounded tomatoes".
Reading this collection, one gets a sense that Greinke is always observing, his pen always moving, always looking for new inspiration and finding new ways to voice what he sees. Like a mapping expedition, he discovers both dead ends and majestic peaks. In it all, the reader feels the joy of that exploration.
Rating: *** (Good)

Presa Press, 2008: ISBN: 978-0-9800081-1-1