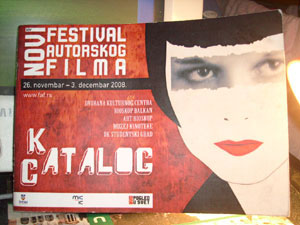 Lynch, Wenders and Madonna
on the New Author Festival
By Rada Djurica
The New Author Film Festival was established 14 years ago in Belgrade Serbia to appeal to a different type of festival audience, focusing on two aspects: looking at the new possibilities of motion-picture expressions and renewing classical patterns of film narrative in the changed technological and civilization context.
Besides the homage showcase of Zivojin Pavlovic, one of the most important Serbian filmmakers, and the French philosopher and most influential film critic of all times, Andre Kazin, the festival did appealed to a mainstream audience, as well. The Turner Prize-winning artist Steve McQueen's (not the actor by the same name) feature debut Hunger won the main Aleksandar Sasa Petrovic Prize and shared a prize of 7000 euros with Kazakh film Tulpan, directed by Sergej Dvortsevoy. According the festival jury (Boris T. Matic, Ferenc Torok and Gordan Mihic) although they demonstrate two completely different forms of film expression, aesthetic structure and layers, both stories have equal strength, demonstrating excellence in film art, sound and image.
McQueen's Hunger is an experimental, non-narrative film about IRA activist and political prisoner Bobby Sands, just before he died after a 66-day hunger strike in 1981. This film won other prestigious awards, including the Camera d'Or for best first feature film at the 2008 Cannes Film Festival and the equivalent at the Toronto International Film Festival. Tulpan also won the FIPRESCI Film Critics Award and Aleksandra Petkovic-Petko Award. And in Cannes the film was honored with two awards: the Prix de l´Education Nationale and the Prix de la Jeunesse.
The festival also gave The Freedom Award to a Bosnian film, Snow, directed by Aida Begic, and Serbia's FIPRESCI Award went to The White Night Wedding, directed by Balthazar Kormakur.
The New Author Film Festival followed the tradition of showing music biographies: films such as I'm Not There by Todd Haynes (about Bob Dylan);Rolling Stones: Shine a Light by Martin Scorsese; Joy Division by Grant Gee; Lou Reed's Berlin by Julian Schnabel; and Egzodus 77 by Anthony Wall. Showing such films is a very clever move, drawing music buffs who otherwise might not come to the festival.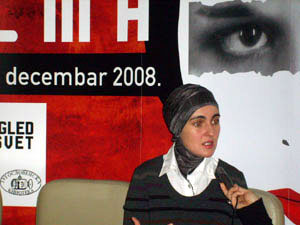 Ada Begic, director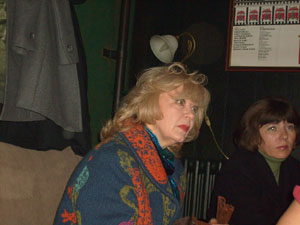 Dravic Arsenijevic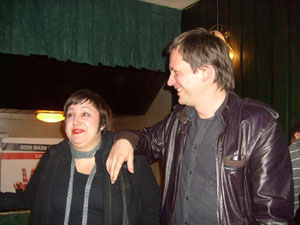 Croatian film director Dalibor Matanic (right)

Reviews
Palermo Shooting
Surveillance
Filth and Wisdom
Skin
Interview