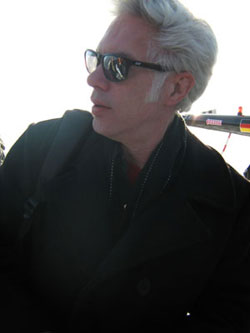 Jim Jarmusch


Kustendorf Film Festival
By Rada Djurica
This year, the Kustendorf Film Festival, a brand-new festival founded by celebrated Bosnian film director Emir Kusturica, proved that it is not just an ordinary festival. The festival took place on top of a Serbian mountain in Kusturica's ethno village in a place called Mokra Gora. In the second year of its existence, it fulfilled promises and proved that, nowadays, an artistic utopia can exist. Everything at the festival was unique, extraordinary: a place that nourished itself with beauty and originality, open to young artists from all around the world to have the possibility to meet each other, to see and hear each others' work, to listen and speak with great international artists.
The quality of the art selection (courtesy of the festival jury: Anica Dobra, the president, Karl Baumgartner, and Gianluca Farrinelli) paid homage to many classical auteurs, from Melies to Chaplin, from Vigo to Buñuel, but also, celebrated others who had the courage to experiment with new territories. Many genres were represented in the program, from animation films, such as About Socks and Love, from the Slovakia school; to the ability to mix genres, which flowed in the Mexican film Reality Show. The Czech documentary About Shoes, with surprising grace, reveals the folly of racism in a small community.

Also worthy of mention are the young and vibrant performers in the Scottish film River Child, and the humor of the protagonists in the Serbian film Scent of Formaline, as well as the irony, beauty and rhythm of Ode to the Pina. Among many successful films, one that deserves a special mention is Five Seconds, a film shot in Spain by a young French student. In an amazing and courageous film, the director was able to develop a brilliant idea and transform it into a film.
Among the celebrities of Kusta's festival was the celebrated American artist Jim Jarmush, who held a film school for students.
The awards at Kusta's festival included the Bronze Egg, which went to Viola from the United States, directed by Shih-Ting Hung, for the emotion it evinced and for drawing inspiration coming from painting, theatre, and experimental cinema. The Silver Egg went to Miki's Ballad, directed by Nina Vukovic, a Montenegrin director from Germany, recognized for the way this beautiful and yearning film reveals the face of its hero. And finally, the Golden Egg went to Godog, made in the Philippines by the Japanese director Kohki Hasei, recognized for being a perfect, tragic metaphor of our civilization and its false successes and for being a powerful film that explores the consciousness and morality of our time.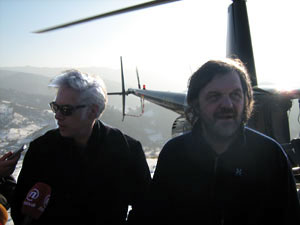 Jim Jarmusch and Emir Kusturica