Ken Foree in Belgrade
By Rada Djurica
Be afraid, be very afraid! FEST, The Belgrade International Film Festival, hosted one of the most well-known horror zombie actors of today, Ken Foree. Foree acted in the first Serbian zombie horror film called Zone of the Dead, directed by two Serbian film directors, Milan Konjevic and Milan Todorovic. Although rather bad, the film attracted great attention for the fact that this sort of genre is not typically done in the Balkans, which is probably good. And frankly, it wouldn't be worth mentioning if it didn't star Ken Foree and Kristina Klebe and a pretty boy called Emilio Roso. The shooting of the film was great fun for everyone, especially for Foree, but nothing more then that.

Ken Foree is a horror-movie veteran whose humor, intelligence and personality underscore his talent as an actor. He played a lead role in the classic Dawn of the Dead, directed by George Romero, still considered a masterpiece today, and for 30 years, that film, and his performance, made set Dawn of the Dead apart from all imitators. Ken Foree fans can rejoice that Foree has decided to leave the world of business and stage acting behind to return to acting in this genre, looking forward to a future of personal fulfillment from his craft and providing joy to others. It is amazing to imagine that such a classic movie icon actually enjoys the stage, and that Foree lives off his theatre acting, rather then by joining the troops of filmed zombies in an endless cycle of horror films for the past 30 years.
In a recent interview, Foree talked about his acting career and his love of film: "I think it was a continual process for me. I was so enamored with film. I think I saw The Ten Commandments about 20 times. They ran it at our neighborhood theater. It cost ten cents to get in, so I went every day. It was this great epic. I watched Wolfman, Frankenstein, Dracula, Bela Lugosi. I watched those every Friday night. So I had an early horror film education and appreciation. Basically, I like good films. Somebody asked me that on the way in: 'What do you like?' There are a number: They Shoot Horses, Don't They; Lawrence of Arabia is one of my favorites. I can't watch it any more because I watched it so many times; I know every line and every scene. Night of the Living Dead is one of my favorites."

Foree is well known to several different groups of movie fans. To most of us, Foree is known as a horror film actor, thanks to leading roles in several well-known horror films such as George Romero's Dawn of the Dead, or From Beyond, Texas Chainsaw Massacre, and Leatherface. He also played in the TV series Kenan and Kel and the TV movie Two Heads Are Better Than None.
Frankly, he was one of the best interview subjects I had at this festival. He explained how his love for his craft drives him: "I think any actor alive prefers the stage. Well, any New York actor prefers the stage. There is nothing like the give and take with an audience. There's nothing like the inspiration you get from a live audience, and also, you don't have any retakes, so whatever happens up there happens and that's it for that night. There's a lot of excitement and I like that. I would love to do another stage play. I haven't done one in a while. That is my first love."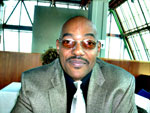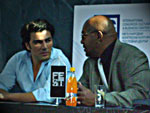 Ken Foree Emilio Roso and Ken Foree