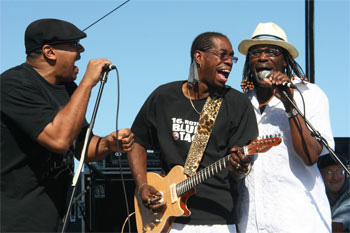 photo by Lisa Law
Ronnie Baker Brooks, Bernard Allison and Joe Louis Walker

Blue Sky, Blue Water, and a Ship Full of The Blues
Oh, baby don't you want to go
Oh, baby don't you want to go
Back to the land of California . . .

-1936, Robert Johnson
We're on an AirTran flight from the East Coast to the West, and the pilot is unknowingly giving us a serendipitous beginning to a trip consisting of rhythm and blues. We're flying away to a ship full of the blues — The Legendary Rhythm and Blues Cruise — and this captain is serenading his passengers with a homegrown harmonica riff before lifting off into the wild blue yonder. I've never before had a pilot wail on the blues harp. AirTran rocks.
Arriving at the San Diego Airport, we're greeted by another auspicious beginning to this trip: a glitzy jazz band getting down with some brass in the baggage claim area. Picked up (on time!) by the friendly driver Olag from Beach Limo, we're smoothly transported in a shiny black town car through the non-congested streets of this lovely California city. Palm trees wave in greeting, and San Diego sparkles with a magical nighttime waterfront charm. We glide into the Gaslamp Quarter, a swanky district founded by a San Francisco developer who in 1867 discovered this area then only known as Rabbitville.
Still maintaining much of the energy and spirit of its frontier days, the Gaslamp Quarter is a lively and happening place. There's lots of upscale shopping and boutiques, hipster nightclubs and open-air cafes, super-model types and twenty-somethings decked out to the nines in the latest trendy fashions.
The Marriott San Diego Gaslamp Quarter hotel is an oasis of mod and hip architecture, spacious and clean rooms, and the coolest check-in desk this side of the Pacific. Illuminated from behind by colored lights, the counter is run efficiently by friendly staff, obviously happy to be at your service. On the counter are bowls of all-American Boomer-era candy: saltwater taffy, Necco wafers, Pixie Sticks, and Hershey Kisses.
With lots of comfy seating and wireless internet access, the hotel lobby is a popular gathering space, and the restaurant — the Soleil @ K — includes a full breakfast with the Snooze and Cruise deal. Taxi vouchers are also part of the package, making it easy and convenient for cruise visitors.
San Diego's cruise port is a simple ten-minute trip from the Gaslamp District, making this a more accessible terminal than most East Coast ports. Check-in is a breeze, and before we know it we're on the Oosterdam, an exquisite and immaculate Holland America ship upon which even the elevators are of upscale showcase material.
We're heading for Mexico; there's blue sky above and blue water below, and a ship full of the blues. Cool.

Captain, tell your men to get on board
I sure see 'em just pull into another shore . . .

-1931, Bessie Smith
Blues Cruise has been sailing from Florida to the Caribbean since 1994, and in 2006 the first San Diego cruise was launched. Spearheaded by Kansas City music promoter Roger Naber, the Legendary Rhythm and Blues Cruise is one-of-a-kind: the only all-blues-all-the-time cruise in the universe. Once a Blues Cruiser, always a Blues Cruiser, so it seems. Many of the passengers on our boat seem to be returning Cruisers, hooked on this event that's not only a cruise but a music festival not to be found anywhere else in the world. Add to all that music a boatload of scrumptious food, and you've got the recipe for a great vacation. Even the Holland America employees are enjoying themselves.
"We never have bands like this on usual cruises," says one young food service worker who hails from Indonesia. "This is sweet."
His co-worker, whose name tag reads "Hunky Dory," grins effervescently and nods in agreement. Hunky Dory is a favorite of the buffet diners. He knows everybody's names. He never forgets. And he's really, really liking this cruise.
"Blues Cruise is lots of fun," Hunky Dory states. "I digging it very much."
Hard-core blues aficionados mingle with casual fans and newbies on Blues Cruise, and the ship becomes a happy bubble of music-love, delectable food, and fun. Jam sessions are part of the norm on this ship, and it's not uncommon to stumble across four or five blues legends getting together to create a brand-new impromptu tune born of spontaneous combustion.