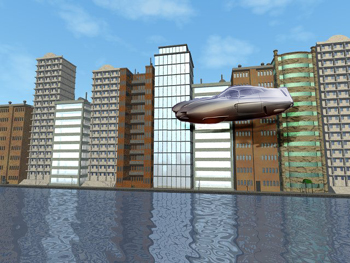 The Prophecy
The hallway reeked of pine disinfectant. The boy clutched his pitiful bouquet and tapped on the door. Maybe she wasn't there, he hoped. He tried again.
There was a faint creaking of bedsprings. His grandmother drowsily invited him in.
He edged into the room. It was tiny and clean. The yellow tinge of her hair spoiled the starched whiteness of the linen.
"Flowers! Oh, how lovely," she said. "Thank you, child. There's a glass for them on the table. Come sit beside me."
The daisies stood limp in the glass. The boy tried to prop them up. Defeated, he slumped down on the hard wooden chair. "How are you feeling today, Grandmother?"
"How do I look, child? Oh, don't bother to answer. That was just my little joke. How good of you to visit me."
"Dad told me to, but..."
"Hush, child. You don't have to explain. I asked your father if you could come. Oh, don't worry, I won't do it again."
"But, Grandmother, I —"
"Hush. I know you'd rather be somewhere else. I don't blame you. I was once your age. So long ago..."
The boy felt he should say something. "Did you hear that I made the soccer team at school? Dad says —"
"Robert," the old lady interrupted, "have you ever had a secret? A secret you wanted so much to tell someone? But you feared that if you did tell, you might be laughed at, or... or worse."
The boy could not remember his grandmother ever before calling him by his first name.
"Don't answer, child. It isn't necessary. Something happened years ago. I want to tell someone... young. It won't take long. Will you listen?"
Listening would be easier than trying to talk to her, the boy decided. He solemnly nodded.
"It was long ago, the summer of 1930, the year before I married your grandfather. I was a member of the Elwood Ladies Literary Club. Oh, we weren't really very literary. Twice a month we met at the club president's house, usually to gossip. But that summer Millie Clive was president, and she thought we needed guest lecturers. To improve our minds, she told us."
The boy fidgeted and wondered how long the story would last.
"We couldn't afford to pay train fare to bring anyone from Chicago. We had to make do with local talent. Millie tried hard, but there just weren't many sources of literary enlightenment in little Elwood.
"Child, you have to understand that those were very bleak times. Thousands of poor men roamed the country. Not all were tramps, mind you. Some were educated. Three or four might come to your door in a day, asking for help. There wasn't much work. We tried to give them a little food before they went on their way.
"Oh, don't make such a face! It was all very different then. We could trust people more.
"I was at Millie's house when one of those unfortunate men came to the back door. He looked sick and miserable, but he didn't beg for food. He wanted something else, something very odd. 'Any spare radio parts?' he asked.
"Millie had a box of old tubes, wires, and the like. She asked him why he wanted it. I didn't understand much of his reply, but it had something to do with building a special radio beacon so his friends could find him. Millie asked if he had been in the radio business. He answered that he was really more of an explorer. She saw her chance and immediately offered him a hot meal and asked if he would be our guest speaker for the evening.
"I didn't think that was too clever because he really didn't look well at all. The poor man finally agreed.
"Wipe your nose, child... Not on your sleeve! There's a box of tissue on the table."
The boy did as he was told.
"Good, that's better. Now... That meal must have helped. By the time the meeting started he did seem stronger. But he was flushed and there was a glazed look in his eyes.
"Millie was so pleased with herself. She grandly introduced him as her surprise speaker, an explorer who would share fascinating experiences of exotic lands.
"The poor man stood slowly and leaned on a chair for support. He began to speak. I don't know where he thought he was, but it certainly wasn't in Millie Chive's living room!"
The old lady paused to clear her throat. "Give me a drink of water, please."
The boy glanced at his wristwatch as he poured from the bedside pitcher.
His grandmother drained the glass. "Thank you, child. Now where was I? Oh, yes... What a spectacle he made, wildly waving his arms and drooling a little bit as he rambled. We soon realized something was very wrong. We tried to get him to sit back down, but he just ignored us.
"Millie decided the safest course was just to let him have his say. So she adjourned the meeting to the dining room. I volunteered to stay and watch so he wouldn't break anything or hurt himself.
"Lord only knows what he was trying to say. None of it made much sense. He used words you hear today, words no one used back then. Computer, hologram. Genetic engineering. And he used other words, words I didn't hear again until many years later.
"Remember, child, all this happened in 1930. That strange man talked about the Second World War, atomic bombs, men going to the moon. Are you listening to me, Robert?"
The boy nodded.
"The man ranted and raved and talked himself into a frenzy. Then he passed out cold, right there on Millie's oriental rug. He went into a coma and never woke up. He died a week later in the charity ward.
"At first I thought he must have been insane. But then, over the years, the things he talked about started coming true. There was another world war, the atomic bomb was dropped, and so on. But he talked about other things that night — things that haven't happened yet. Some are very frightening, but others are wonderful, so wonderful.
"I've never told anyone, because I thought I'd be laughed at. Now there's not much time left. I want to tell someone, so that what I heard isn't... wasted. Do you understand me, Robert?"
The boy stopped fiddling with his shirt button. "Yes, Ma'am."
The old lady sighed. "Well, you'll just have to pay attention. Look at me. Listen carefully..."
A half-hour passed, then another. Finally, she ran out of breath and went to sleep.
As the boy tiptoed out, he realized that if he hurried he would be on time for team practice, but only barely.
The family's routine was not overly upset by the funeral. It had long been anticipated. In two weeks all was back to normal. The soccer team went on to the county semifinals, but lost in the second round. A month later school ended. Summer sped by. Months, then years, passed in the blur of a lifetime. The threshold of a new century approached, then receded with the passing of decades.
---
The girl stamped her foot at the little utility robot. It scuttled aside. She strode along the second mezzanine level of Dignity Hospice. Her neural implant signaled annoyance to the surrounding net of psychosensors; but neither the whispering autofountain nor the shimmering colors of the moodwall could comfort her.
It wasn't her turn to visit, she grumbled to herself. Her grandfather had never paid any attention to her before, so why was he asking for her now?
She paused before the polarized doorfield. Her implant announced her arrival to the room's sensors. There was no reaction.
He must be dozing again, the girl decided after a few seconds had passed. She brushed her hand against the doorfield. There was a soft buzz, but still no reaction from within. She jabbed her thumb into the field as far as it would go, ignoring the warning tingle and winning a satisfying loud bleep. The doorfield finally winked away.
"Hello, child," the old man drowsily said, "Come in and sit down. I have a secret to tell. Don't worry, it won't take long."