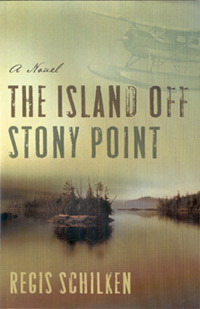 The Island Off Stony Point
Regis Schilken
Regis Schilken attempts to weave Catholicism and crime into a mixed tale of integrity and greed in his novel, The Island Off Stony Point. A complex plot of extortion is used to reap monetary benefits from the Catholic Church when priests are kidnapped and held for ransom. Officer Jessica Harding and FBI detective Robert Dexter unknowingly follow a path of destruction created by Malena and Kevin Sinteris, a husband and wife duo, and their sidekick Batolo. Stony, a kidnapper, struggles to maintain the tasks set before him as the forgetful priest, Father Martin, uses his time of imprisonment to teach his young captor the concept of one's soul.
Though The Island Off Stony Point has a decent story line and creative descriptions, the characters of Schilken's tale leave the reader flat. I found it difficult to connect with any given character, and I found them to be more irritating than entertaining. For example, the character of Stony waffled inconsistently from ignorant to brainy and right back to ignorant throughout the story. A sexual attraction between detectives Jessica and Robert comes off as hostile and unsettling, and word play is lame at best, with unrealistic exclamations like "wow,""gee," and "gad".
Words are the building blocks of a good story, but too many can weigh it down. The Island Off Stony Point dips below the surface with sentence after sentence of meaningless dialogue until it sinks right to the bottom.

Rating: ** (Fair)
Bridgeway Books, 2006 (ISBN: 1933538139)