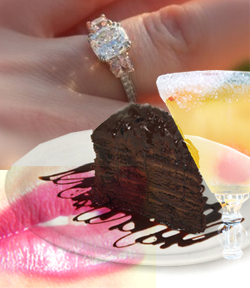 Girls Night Out
By Wayne Scheer
Lani and Alice had made a pact. Until one of them married, they'd keep Wednesday night free for each other. Sometimes they'd do the bar scene; other evenings they'd order a pizza and watch a movie. This time, they decided on a small bistro so they could talk.
Conversation started slowly. They ordered drinks — a vodka gimlet for Lani, an apple martini for Alice — and decided to split the crab cakes over Lobster Risotto. "To die for," Lani exclaimed. Alice thought it good but rather bland.
Lani decided it best to let her friend bring up the topic of her recent breakup, especially since she planned on dropping the real bombshell of the night. David was being transferred to Chicago, and he had asked her to join him.
After a few false starts, Alice volunteered. "I really thought Bryce was special. Maybe even the one. But it ended like all the others. In bed. With me wondering if that's all there is."
"At least you're not settling," Lani said. "Too many women in their thirties settle." The words hovered like a cloud. She reached for Alice's hand, "The right guy is out there. You'll see."
"It's easy for you to say. You found David." An uncomfortable silence followed as they finished their meal. "I expect the two of you to announce your engagement any day now." Alice didn't mean for her voice to sound so bitter.
"I don't know what to say, Al. Things are going really well for us." She decided this wasn't the time to tell her how well.
They finished their dinner and shared dessert, a triple-layered chocolate cake with fresh raspberries. Neither spoke for the first few bites of rich chocolate. When they resumed conversation, the two friends avoided the sensitive topic of men.
Alice suggested they go back to her place for drinks, but Lani offered an excuse about an early meeting.
"You want to get back to David," Alice said. "I don't blame you."
Lani hugged her friend and kissed her on the cheek. Smiling, Alice held onto her friend's hands and said, "I probably just need a good lay."
That night in bed, Alice felt the comfort of Lani's embrace, her lips on her cheek. To her surprise, she felt aroused, and it triggered a long-suppressed memory of an old college friend. While drinking tequila and talking trash, they kissed and fell into bed. Now the old friend, whose face she barely recalled, transformed into Lani. She imagined Lani, naked, on top of her.
Alice's eyes popped open. She could feel her heart pounding. Furiously, she pressed the speed dial on the phone next to her bed.
"Bryce, sorry it's so late. I need to see you tonight."