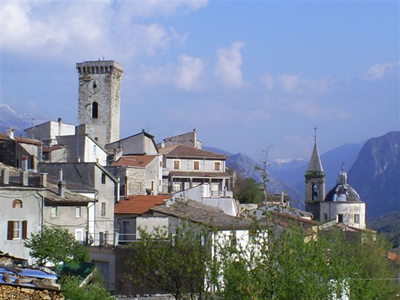 The town of Capestrano

Land of 1,000 Castles:
The "Ooh" in Abruzzo
It's 1 a.m. on the East Coast of America, and I'm somewhere over the ocean, on Eurofly's inaugural flight to Pescara, Italy. Dinner has just been served, but this is no ordinary airplane meal. This is a feast of fine Italian cuisine, cooked and served in style: Linen tablecloth carefully placed across the tray, my own personal little bottle of olive oil, silver, china, and endless smiles from the immaculately groomed attendants. They all seem to be blessed with great figures, these young Sophia Lorens of the sky. They all have flawless lipstick, gleaming teeth, and luminous skin.

You'd never imagine that these women suffer from jet lag every now and then, or have an off day in the wild blue yonder. This is a pleasant switch from the snappy I'm-Doing-You-A-Favor-By-Giving-You-A-Pack-Of-Peanuts employees that have all too sadly become the norm of the air travel industry. Flying with Eurofly is what travelers must have experienced in the early days of airplanes: rather glamorous, relaxed, respected.

I heartily consume the food — all five courses or so — and then pop up my movie screen. Every seat in business class has a screen, with a selection of movies in both Italian and English. Every gorgeously patterned seat reclines, too, with an adjustable footrest. I recline. I close my eyes. I rest my feet. Ahhhhh. La Dolce Vita. This is The Good Life.

There's another Italian saying: Il dolce far niente. The Sweetness of Doing Nothing.

I'm doing nothing, nothing but flying, in style, over the ocean. I sleep, and it's sweet.

---
I awaken to the landscape of Pescara, east of Rome on the Adriatic Sea, the calf of the leg in the boot of Italy. This is Eurofly's first flight to this landing strip, and like their other JFK-based flights, it's a direct route. In operation for three years, Eurofly's non-stop Italy destinations already include Rome, Bologna, Naples, and now Pescara, a city in the region of Abruzzo.

The landing is smooth, and the Airbus 330 is greeted by a welcoming committee. There's a red carpet to walk, hands to shake, smiles to exchange, and a jaunty brass band. I feel a little bit like Madonna, whose roots are in Abruzzo. The entire country of Italy welcomes its visitors with open arms, and Abruzzo is no exception to the rule. They seem to love Americans here, and they often acknowledge our role in assisting Italy during the Second World War.

The President of Abruzzo tells of his relative who began a successful seamstress business by making a wedding dress with cloth given to her by a U.S. soldier. It's a story that brings tears to the eyes of the listeners, especially those from America.

"We live in a troubled time when it's good to meet and promote peace," comments one man on the welcoming committee.

"We are so happy to see a big plane in our little place," says another. "Welcome to Abruzzo."