The following interview was conducted via e-mail. Nothing has been changed except for editorial clarity.
CHUCK: First, I'd like to thank Tristan MacAvery for his time and this interview. Mr. MacAvery is probably best known for his role as Gendo in Neon Genesis Evangelion, or perhaps as Grandpa Danbei in the Cutey Honey series. He has also done commercials and writing and directing for anime dubs. A recently published novelist, he's been accepted to the graduate program at California State University at Dominguez Hills, to get a Master's so that he can teach at a nice quiet junior college somewhere. He's promised me that he won't grade like Gendo, though.

Okay, the first Frequently Asked Question is: What got you interested in anime and dubbing? .
TRISTAN: In truth, I knew nothing at all of the genre until I began dubbing some of it. I had seen things like "Speed Racer" or "Gigantor" on TV, years ago, and—well, okay, at the time, I thought them pretty silly. I have to apologize for the judgment of the child, because I grew up with cartoons that actually "made sense," rather than cartoons that seemed "clumsy" in their dialogue. The reason for this disparity was made clear to me when I actually began working in the genre—it's not easy to come up with exact fits to the mouth movements!
I'll confess, also, that those first brushes with anime weren't exactly "brain food." In today's market, "Pokemon" is probably the most recognizable title known to the Everyman on the street, but it's not representative of the depth and range of anime. When I discovered the conceptual brilliance of shows like "Evangelion" or "Serial Experiments Lain," or the monomythic perfection of "Princess Mononoke," I realized what a rich and passionate field anime really is. From then on, I was hooked.

CHUCK: Have you met with any of your Japanese counterparts, and compared styles?
TRISTAN: Ah, what a lovely dream! No, I haven't met any of them, in person or even through e-mail. I hold no illusions of one of them thinking, "Ah, Tristan-sama, what an honor to meet you!" It would be very exciting, not just in that "East meets West" idea, but simply to confirm my suspicion that all voice actors have a few basic things in common—for example, the goofs and flubbed lines, and the legendary "Line That Ate My Lunch" (a bit of script which, for some reason, seems impossible to say correctly), and similar stories. They're good for a laugh in any language!

CHUCK: What was your first voice role? Your most unusual?

TRISTAN: My first voice role in anime was the engineer, Tachibana, in "Super Atragon." I also voiced the U.N. Ambassador and Admiral Bogart in that show. (There were something like 90+ voices, and a limited budget, so there was a lot of doubling and trebling.) Most unusual? Hmm… well, a demonic frog is pretty unusual. ("Slayers: The Motion Picture.") That's probably the most fun aspect of voice acting: You can be almost anything, and it's up to you to make that "anything" seem particularly interesting. As proof, I submit the opening of the film "Look Who's Talking," wherein Bruce Willis is the voice of a sperm.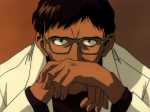 Gendo
---
Grandpa Danbeii

Speed Racer, an anime series originally titled Mach Go Go, originally appeared on American TV in 1967. It follows the adventures of a race car driver Trixie, Spridle, the mysterious Racer X and Speed Racer with his incredible race car, the Mach 5, that has more as gadgets than anything a certain British secret agent has ever driven.
Evangelion takes place in the year A.D. 2015, when the world is recovering from the melting of the Antarctic Polar Ice Cap--the planetwide catastrophe known as "Second Impact". Entities called "Angels" suddenly strike "Tokyo-3", a specially planned city under construction in the Hakone area. Mankind's only means of fighting back against these mysterious foes is the "Multi-Purpose Humanoid Fighting Machine, EVANGELION". Ikari Shinji, the series's main character, is one of three young people chosen by NERV, a special agency directly attached to the United Nations, to be operators of EVANGELION.