Sixth Annual Wild Violet Writing Contest Winners (2008)
Poetry — First Place

A.S. Zelman-Doring is the 2008 first-prize winner of the Mount Holyoke College, Glascock Poetry Prize which boasts Sylvia Plath and James Merrill among its past winners. Her recent poetry and translation has appeared in The Oxford Magazine, LIT Magazine, The Indy, The Brown Literary Review, The Saint Edmund Hall Magazine, The Strip and The Saint Ann's Review, among other places. She studied at Brown University, Saint Edmund Hall, Oxford, and currently at Columbia University, where she is enrolled in themaster's poetry program.
On the Possibility of All Metaphors at Once
By A.S. Zelman-Doring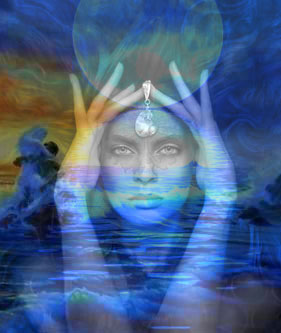 There hangs a moon so heavy on its side
I would turn a sun to balance.
Through my hands creep suns,
by night they sink in oceans
deep as aging lifetimes.
At my wrists two-tided seas
dream of coming and going,
in my arms light stars so blind
they would wrap around a human pain.

How strange that I am awake -
From my eyes hang moons,
gold and dark with cold.
Go looking and listen
a pebble lands in a basin,
a stone on the roof of the sea
with the look of a seer passing the dead
twice as old as time.
Judge Eileen M. D'Angelo's comments:
"On the Possibility of All Metaphors at Once" is a poem that rebels against ordinary imagery and takes risks, with wild associations. A good poem transcends mere words on a page, as this one did. It turns language into abstract art with a dreamlike quality, using concrete objects in an ordinary world in the same way a dream communicates with us-using mystery and nuance, symbols and pertinent information condensed, with an economy of words. It's reminiscent of Magritte's painting, "Time Transfixed," in which a train is coming out of a fireplace. Moons aren't supposed to hang from eyes, but there they are, and it works in this poem. It's reality and unreality mixed. The poet takes something real and makes it surreal, the way a visual artist does. As the title suggests, truth slips in with a distortion, an uncommon, impossible metaphor — and the poet is able to wrap words around something large and indescribable.