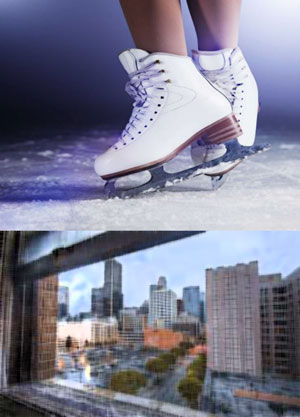 Thrice I jumped on the frozen river to make sure it was frozen, the river; so the kids would not fall into it and one by one freeze or be taken by the hard draft travelling. I could see it travelling its way down below, where my feet lay. Not only was I walking on thin ice, I was jumping and thumping all over it, but I was fine and it would be fine. It always was. Someone had to do it, and this someone was always Sally Marlow, ice rink and ice rink expeditions' manager when Bo wasn't there (and, see, Bo was never there).
Once we were sure the ice was thick enough, the children got on with their skates, falling and beating their knees when they fell, making fun of each other for falling, crying that they were hurt for attention or saying it was nothing when it really was something in order to keep playing. We stopped a couple bleeding knees, an annoying kid who kept calling for his mother, and in the end, all of the kids were probably beat and hurt and traumatized just the right amount.
The blades on my skates weren't sharp enough, and my feet hurt from balancing my way through the ice. Maybe I needed new skates. Anyway, this is why I took a taxi home. Got off the taxi, smelt the fresh air in all its minty winter, wished for it to be winter always, wondered whether global warming would render snow extinct, tried not to think about it, and stumped my shoes full of Good Snow. It had snowed just that morning, so that was the white, clean kind of snow, before it gets all muddy and ugly. And so I rubbed my shoes on the carpet and got into my beautiful cottage.
Like on any ordinary day, I took my glasses off, given the sudden blurriness caused by the temperature shift, and set about to make my tea. I had many tea boxes around the house, and I took about ten minutes deciding which tea to make. In the interval between boiling the tea water and tea infusion, while I cleaned my glasses, there was a knock on the door. Then came Officer Lemon, who did not bother waiting for me to answer.
Officer Lemon—his name is Lennon, actually, after John Lennon; still I call him that because that is the shape of his head—told me he'd great news.
They'd finally captured the bastard who'd killed that poor girl; I was free to go back home now. If I started packing right now, I could be home by Saturday. This life could be left behind, just like I left that other life, before I came here.
It had started about five years prior to this, when a guy shot a girl in a pitch-black night. Another girl, Jill Schwieger, had been looking at the street from above through the broken window of a friend's apartment while her friend was throwing a party; a rather damp party, at that. Had the party been livelier, she would have never gone to meditate by the window, and she never would have even heard the gunshot; it was just the one bullet. The one bullet had sufficed in perforating the girl's skin, ripping through her stomach. She was dead instantly.
Jill's first reaction was "Fuck." Her second reaction was "I'm so not in the mood for this," followed by "How come shit like this keeps happening to me?" Only then did she call 911: "Hey, yeah, I just saw a woman get shot, down on Third. I don't know, it was dark. Jill. Schwieger. Thanks."
And, just like that, I became Sally Marlow; Sally Marlow the ice-rink employee, who lived up north in a godforsaken town which shall not be named. Because I/Jill was from California, I had no idea how to ice-skate and so my first few months were spent channeling my frustrations into learning how. I had to practice at the rink after work or, in winters—thank God for winters—in the river, which was so much better, because my co-workers did not make fun of me when I was alone.
They gave me new papers and new parents and new clothes, and they dyed my hair brunette, even though I was a brunette already; I'd just been dying it blonde. They gave me a cottage and an allowance and told me to take care and try to live a little, even though my life had been completely altered through no fault of my own.
Twice a week, I met with a creative counsellor from the FBI, whose job was basically to help me memorize facts about my new self. Her name was Yvonne, and she was a pain in the ass. She claimed she was teaching me to lie consistently. I told her I was a pathological liar already, but she didn't believe me, which meant she thought I was lying, which kind of contradicted the whole statement.
You'd think I'd have been more than pissed at this sudden, drastic change in my life. Truth is, I was tired and numb, and it was nice to have someone take care of me for a while, even if that someone was Yvonne. Sally Marlow wasn't really about lying; it was about reimagining Jill Schwieger.
Here's what you do: break yourself down to an atomic level—till it's just the wind and the salt and the sand (you're always carrying sand you didn't even know about). Jill can go follow her spirit, which has deserted her. You, Jill. Leave. Disappear like you never even were anything; you really never were anything after all.
Yvonne had a list of character traits: Sally likes yellow things; there's a yellow bag and a yellow shirt and a pair of vibrant yellow shoes. No coffee; we like tea instead. Sally's a cat person. She had a normal childhood. Sally's from Massachusetts. In her childhood home in Massachusetts, Sally had a cat, as well. Sally is a professional bird-watcher. Long Tall Sally. Sally's parents are nice suburban folks, Mitchell and Veronica. She has a sister, Eve, but they aren't close. Long story. She doesn't feel like talking about it. Her favourite book is "The Great Gatsby." She doesn't understand why people like Sylvia Plath, because she's never had to. That doesn't mean she hadn't suffered in life. It just means she had suffered in some other way. In a "Great Gatsby" way. Her father was poor, and he'd fallen in love with her mother, who wasn't poor; and now she resented him for not being rich. That's Sally for you. Of course, I have added some things over the years, because people change over the years. I've changed so much, I've turned into her.
See, it wasn't especially nice to be Jill Schwieger. Once I understood this, I realized that this was my chance to live that long-lost dream of being someone else.
Jill Schwieger, she had a history of always turning up at the wrong place, at the wrong time. When she was twelve, she got home early, from cutting school, and found her dad cheating on her mom with the nanny. When she was thirteen, she was supposed to visit her mom at Berkeley but ended up on a plane to Nova Scotia. She'd been late for her SATs. She'd skipped on an Amy Winehouse concert, thinking there'd be plenty more for her to go to. All in all, nothing ever worked out for Jill. Her life was about constantly trying to avoid a full-on, Murphy's Law situation—and often enough failing at it.
And here she was, being offered a second chance at life. The FBI would pay for her housing, get her a job; make a fully-functioning citizen out of her. The idea of suddenly having a clean slate, a way of starting over, finally sank into her. She was the freest human being in the world, for she was free of herself.
That is, until now.
~~~
Officer Lemon was having that tea; very talkative in response to (in a weird parallel to my reaction to first coming here) my utter and sudden blankness of spirit:
"So, this means you get to go back home! Aren't you excited? I can only imagine what this must've been like for you, living out here, hiding like an outlaw, when the real criminal was out searching for you. But better late than ever, I guess! You don't have to put your life on hold anymore, Sally. I mean, Jill—Jill!"
You could tell he'd made that slip on purpose, so there was more symbolic weight on him finally calling me that. No one had called me Jill in years, apart from my mother's occasional letter (Dear Jilly-Weed, Vanilla has got ticks, and we all had to shave down there to make sure we didn't catch it. I wish you'd been a part of that. It was so funny! Let's just say Tyler had to get a shot for Lyme's… Randy and I couldn't stop ourselves from laughing. As you kids say, LOL! I deleted my Facebook account, too much politics…Are you allowed to vote there? Well, this is getting too long. Xoxo. Ma"), and even that came in writing.
There was something very wrong with that name being pronounced in that setting. The air felt heavier and rippled, like a barrier had been carelessly violated, and now this life's illusion was shattered, completely gone, leaving us unsure it ever even happened.
"That's it?" I asked. "What about Sally?"
"You don't have to pretend to be Sally anymore. Sally is done for."
Officer Lemon could have had a little more tact. You don't go around telling people that the last five years of their lives mean nothing now. You don't get to label all this hard work as theatrics. To be honest, it felt a little bit like being let go.
"What about everything else? What about Veronica?" I asked.
Veronica was my fictitious mother. In the past few years, this town, which must remain unnamed, had become quite a hotspot for Witness Protection, and all of the witnesses were trying to get in in it. More than once, I had met with the suspicious new neighbor, thinking he was the runaway suspect in disguise, only to find out that their lack of improvisation skills and bad accents were owed not to their killing inclinations but to the killing inclinations of others. I thought there ought to be about thirty-odd witnesses by the time I left the town.
(continued on page 2)
Beatriz Seelaender was born in 1998 in São Paulo, Brazil. In 2016 she published her first novel, in Brazilian Portuguese, and has since been trying her hand at English. Seelaender has had essays published by websites such as The Collapsar and The Manifest-Station, and her short stories can be found in Psychopomp Lit Mag, The Gateway Review, and others. Her story "A Kidney Caught in Quicksand," published by Grub Street in 2017, earned recognition from the Columbia Scholastic Press Association in the categories of experimental fiction and humor writing. Seelaender is currently studying Literature and Languages at the University of São Paulo.