Fifth Annual Wild Violet Writing Contest Winners (2007)
Poetry — Third Place

Jerry Ryan is an award-winning freelance writer and sports columnist who has had poetry published in The Prairie Light Review, won the Mountainland Publishing Poetry Grand Prize and received an award for the best U.S entry in the Fifth International Poetry Contest in the Firstwriter.com Magazine. He also won the Short-Short Story award in the national humor magazine, the Funny Paper. In May 2007, St. Martins Press published the short story, "A.K.A.", in the anthology, Next Stop Hollywood; Short Stories Bound for the Screen. For more information, visit his website.
You Used To
By Jerry Ryan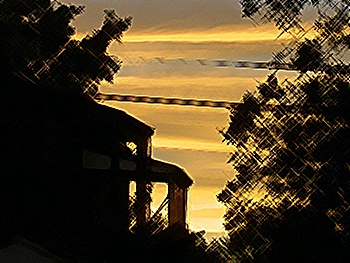 Molded to my lap
Your cat purrs and
Poises its head to be
Petted and scratched
While we watch sunsets
The way you used to.

Windowpane light leaks
Into the inky night of
Your porch where I sit
Still facing the wind in
Zippered solitary pose
The way you used to.

Dustbin dreams remain
Quiet in the corner
Haunting your bed
Kicking your covers
Adjusting your pillows just so
The way you used to.

False dawn drips into your room
Hanging over my head
Like a low ceiling while I re-read
That last letter line by line and
Throw it to the floor
The way you used to.